Soooo, today I would like to share with you a little something I made whilst watching Strictly on Saturday night: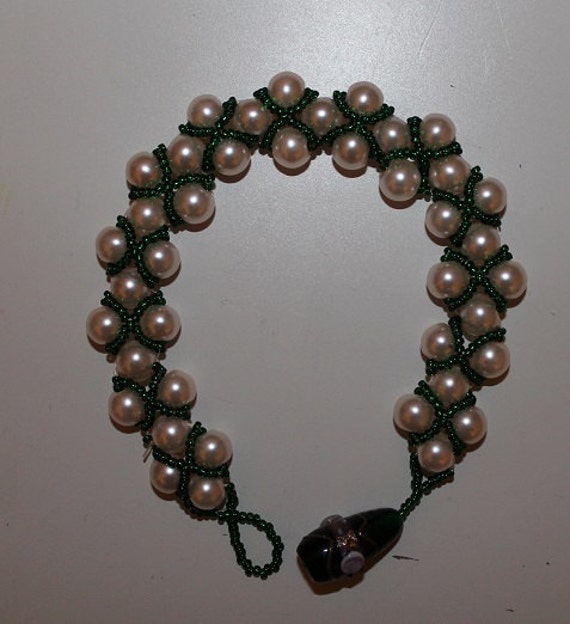 I have to admit, there are probably more seed beads down the sides of and under my sofa than on the actual bracelet, but I really enjoyed making this.
It is made using a technique called bead weaving and everything you need (including the instructions) came with the kit, once I managed to locate the beading needle, which was hiding amongst the text of the instructions.
It was a bit faffy with the tiny seed beads, and took some time, but otherwise a really simple bracelet to make. I imagine the faffiness could be improved with a bead spinner and the time factor is just a matter of practice. I think I have enough beads left to make another, although I would have to find something in place of the venetian glass card, so I will probably have another go.
Other than dropping seed beads everywhere, the only other problem I encountered is that I made it a bit too big, but it would be an ideal size for a larger lady, or just someone with bigger wrists than me. I could do with removing the last three glass pearl beads and then it would fit my wrist perfectly, but I realised this too late. Never mind. Maybe I should have carried on and made it into a necklace? It would have been very heavy though - the wright of it for something so small and pretty is amazing!
As a history geek, I love the historical feel of this bracelet and I can just imagine a medieval lady wearing something like this.
I enjoyed making it so much that I may make a fair few more. I have a bit of a collection of beads going on at the moment, so I may be putting them to use whilst watching Strictly this Saturday.
I have put this in my Etsy shop, which can be found here.
This week seems to be, so far, a little less hectic and stressful than the last few weeks, so maybe I will get down to some crafting and blogging for you all.